Richmond Rowing Club Boathouse
The newly transformed Richmond Rowing Club Boathouse is a stunning venue on the south bank of the Yarra River in Melbourne. It features indoor and outdoor entertainment areas, both with unrivalled views of the city.
Before logging an enquiry, please check out our Quote Calculator, which will allow you to check availability and pricing, and reserve a date by making a tentative booking. You can then organise with your selected caterer a viewing of our function space, and confirm your booking online when you are ready.
Select the following link for more information: RRC Boathouse Venue Hire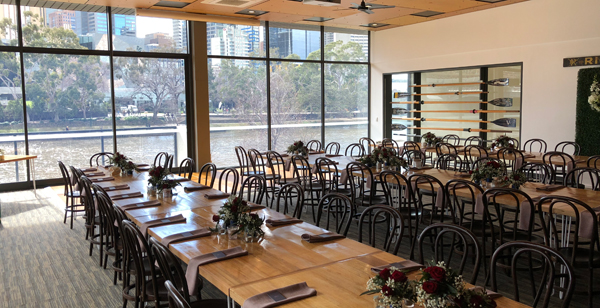 The Richmond Rowing Club Boathouse is the perfect venue for a personal celebration or corporate event. Enjoy an exclusive dinner for 20 on your very own riverside terrace or splash out and entertain up to 100 people for dinner or 180 for cocktails.
The Richmond Rowing Club Boathouse is also a great place to hold daytime conferences, workshops and meetings. A change from many meeting venues, our room is full of natural light and opens to the terrace which is a relaxing spot for breaks and lunch. A smaller room is also available for events requiring a break out space.